Sunday night, ESPN sports business reporter Darren Rovell again found himself in the middle of a social media storm after an insensitive tweet about a fan sitting courtside at a Chicago Bulls playoff game.  Although he deleted the tweet, you can see it below as it has been saved for posterity.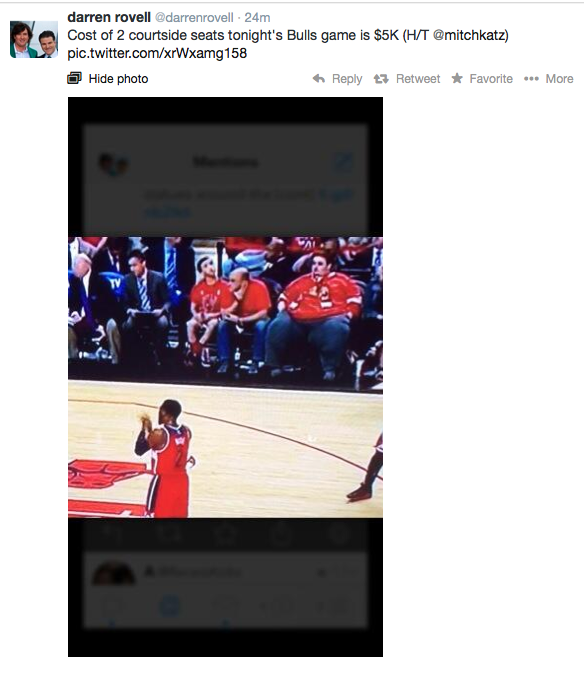 Rovell later apologized for the tweet…
I apologize for using poor judgment in my last tweet. It was insensitive.

— Darren Rovell (@darrenrovell) April 21, 2014
And then a funny thing happened, the one man in sports most synonymous with Twitter stopped tweeting.  Darren Rovell hasn't been heard from on Twitter since Sunday night.  For a man who sent 176 tweets in the week prior, averaging just over 25 tweets per day (or 1 tweet every 58 minutes) this silence was deafening.
And it's not just his activity on Twitter, it's his self-proclaimed authority on Twitter – Rovell is the guy who wrote the 100 Twitter Rules to Live By.  He's the guy who created a Twitter account for his newborn daughter and put his Twitter handle on the back of a baseball jersey.  The fact that he would have any absence from Twitter whatsoever is jarring.
When asked about Rovell's Twitter absence, ESPN said in a statement to this website, "We are addressing the matter with Darren."  Deadspin's newest ESPN scribe Dave McKenna says it is indeed "at ESPN's behest" that Rovell hasn't tweeted since Sunday night.  At least Rovell has some elite company in ESPN Twitter suspensions alongside the likes of Bill Simmons, although their enforced time away from social media were for very different reasons.
The temporary downfall of @darrenrovell has led to a healthy dose of schadenfreude across the internet.  I hardly believe Rovell is as bad as everyone makes him out to be.  He's a sports business reporter, not the personification of evil.  Has he overstepped his boundaries a few times?  Certainly.  Has he said things he would probably like to have back?  Of course.  Has he had his fair share of shameless moments?  Yes.  But another dramatic list about why Darren Rovell is the worst human being on Planet Earth would be piling on just for the sake of piling on.
His emphasis of diluting everyone and everything to numbers and branding isn't everyone's cup of tea, but it does serve a niche in the marketplace.  You can argue all you want about the necessity and value of that niche, but the truth is that it exists.
However, because of the 100 Twitter Rules, the DM controversies, the Twitter Wars, and everything in between, his missteps are going to be much more pronounced than anyone else in social media.  When you put yourself on a pedestal like that, people are going to be more than eager to watch you fall.  Just remember that everyone makes mistakes on Twitter, even the people who wrote the book on how to tweet.