Day 1 of Bristolology mirrored Day 1 of the NCAA Tournament.  Several matchups went down to the wire (although we can't really have overtime when something is decided by a fan vote) and there were a few upsets as well.  What does Day 2 hold?
It's time to vote in the Titletown and ESPN: The Weekend regions to complete the first round of Bristolology.
Your task remains the same – in each matchup, vote for your favorite ESPN personality.  It's that simple!  Once again we have some very interesting matchups today for you to decide who advances in the greatest knockout tournament in the history of Bristol, Connecticut…
Titletown Region
1) Bill Simmons vs 16) Colin Cowherd
Colin Cowherd easily dispatched of Rick Reilly in Round 1.  Now the controversial radio host faces a much tougher presence in one of Bristol's true kingmakers – Bill Simmons.  The Sports Guy has built an impressive empire with Grantland and 30 for 30 under his wings.  If Simmons wins this matchup, maybe he'll even annex Colin's New Football Show.
8) Dave Pasch vs 9) Bill Walton
Another matchup where broadcast partners go head to head.  Many of the great pairings in the history of entertainment eventually went their separate ways.  Martin & Lewis, Laverne & Shirley, and now, Walton & Pasch.  If you're more apt to vote for the straight man, you may go Pasch.  If you're more apt to favor insane tangents and The Grateful Dead, Bill Walton is your dude.
4) Adam Schefter vs 13) John Kruk
ESPN's top newsgatherer squares off against a man who has now found himself as the top MLB analyst at the network.  John Kruk has come a long, long way from his Best Damn Sports Show days, but can he upset Schefty?
5) Lindsay Czarniak vs 12) Adnan Virk
The first round matchup we've all been looking forward to as two of our Rising Stars of 2013 go head to head.  Virk is the ultimate utility man, excelling in any role he's given.  Czarniak has been outstanding as an anchor of the 6 PM ET SportsCenter.  And best of all, both want the victory and the bragging rights that go along with it!
3) Jon Gruden vs 14) Trent Dilfer
I love this contest that pits ESPN's star NFL analyst versus the man that is being groomed to replace him should he ever return to the sidelines.  Can Jon Gruden Spider 2 Y Banana his way past the mastermind behind Total QBR?
6) Tom Rinaldi vs 11) Jeremy Schaap
Two of ESPN's most respected reporters.  Rinaldi can deliver hard journalism and also tug at the heartstrings with his featured stories.  Schaap has equally as strong of a resume after many years at the network.
7) Doris Burke vs 10) John Saunders
A classic 7-10 game.  Both Burke and Saunders are revered, but for different reasons.  Saunders has served ESPN as a studio host, play by play man, and as the face of the Sports Reporters.  Burke is a fantastic sideline reporter and broken down barriers as an NBA game analyst.
2) Mike Tirico vs 15) Barry Melrose
Tirico is arguably the top play by play announcer at ESPN.  Between his work on the NFL, NBA, college basketball, golf, and college football it's easier to say what sports he doesn't call.  On the other end, Barry Melrose has just one sport, hockey.  Will there be coal in the stocking of Barry Claus?
ESPN: The Weekend Region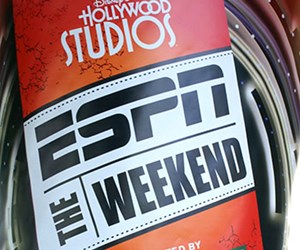 1) Chris Fowler vs 16) Matt Millen
Chris Fowler grabbed the final #1 seed with his mega-contract that will see him make more money over the next decade than many professional athletes.  He faces Matt Millen, who received an automatic entry as a 16 seed thanks to his past success in the Pammies.
8) Mike Breen vs 9) Jeff Van Gundy
Making you vote between these broadcast partners who display such great chemistry as the team that calls the NBA Finals is just cruel.  Well, here you go!
4) Brent Musburger vs 13) Lisa Salters
Brent Musburger may have been sent out to the SEC Network pasture, but he still has a chance to make his presence known to the higher ups with a deep Bristolology run.  Brent can't get too distracted by faces in the crowd though because Lisa Salters presents a dangerous upset threat.
5) Hannah Storm vs 12) Neil Everett
The early morning and late night SportsCenter anchors present an interesting matchup in this 5-12 game that has traditionally seen plenty of upsets.  Everett has the momentum of a play-in game victory over partner Stan Verrett.  Can the Los Angeles SportsCenter anchor now take down one from the east coast?
3) Jay Bilas vs 14) Mel Kiper Jr.
ESPN's resident NFL Draft expert vs ESPN's resident NBA Draft expert.  Kiper has the decided hair advantage.  Bilas has the populist crusade against the NCAA working in his favor.
6) Joe Tessitore vs 11) Robert Flores
RoFlo gains automatic entry on being a SportsCenter anchor courageous enough to namedrop Awful Announcing on ESPN airwaves.  But we can't just give this victory to him.  He has to earn it against another one of our favorites in Joe Tessitore.  By the Law of Tess, this one should be close.
7) Mike & Mike vs 10) Suzy Kolber
Mike & Mike is basically one amorphous blob these days, so they collectively take up just one spot in the bracket.  If Suzy Kolber can successfully fend off Joe Namath, she has a good chance to do the same to the ESPN Radio morning show duo.
2) Rece Davis vs 15) Steve Levy
On paper this is much stronger than a 2-15 matchup.  Again though, Bristol Rules mandates a seeding penalty for the whole hockey thing.  Levy is a SportsCenter institution.  Davis deserves all the plaudits he gets for surviving Mark May and Lou Holtz and living to tell the tale.  The major question is whether or not this tournament will be one of Davis' final acts at ESPN.
Check the results from the first half of Round 1 here!