Athletes saying dumb things on Twitter is nothing new and Falcons WR Roddy White is the Jerry Rice of that category.  Do you think it's time somebody at the Atlanta Falcons tells Roddy White it's in his best interest to put down the smartphone, step away from the laptop, and go on an enforced Twitter vacation?  The outspoken wide receiver is one of the most volatile athletes on Twitter with absolutely zero filter to speak of and it's gotten him in trouble on more than a few occasions – most recently this weekend.
During a discussion on ESPN's Sunday NFL Countdown about Aldon Smith and his 7 AM DUI arrest, White sent these boneheaded tweets basically accusing the former players on set of all driving drunk:
Watching nfl countdown and they talking bad about Aldon smith but I'm willing to bet Keyshawn Tom and cris have all driven drunk no doubt

— Roddy White (@roddywhiteTV) September 22, 2013
Aldon smith isn't right in any way form or fashion but come on guys don't act like you never did it you just got away with it

— Roddy White (@roddywhiteTV) September 22, 2013
No doubt?  Carelessly tossing around DUI accusations like everyone in the NFL does it probably isn't in the league's best interests, especially after Smith was allowed to play Sunday before going into rehab.  Because priorities.
White is yet to apologize to the ESPN Countdown trio.  Given his track record it should be coming any minute, though.  Those tweets are far from the first time the Falcons receiver has ruffled feathers in social media.  Let's reminisce, shall we?
September 2013
White calls a Twitter troll a "peasant" because he doesn't have a $5.5 million dollar salary and doesn't take criticism too well.  He later apologized.
Whatever u do is not work you disrespectful little peasant RT @MSkyBlue00 Getting paid to play a kids game is not work

— Roddy White (@roddywhiteTV) September 2, 2013
July 2013
White says the jury in the George Zimmerman trial should go kill themselves.  He later apologized.
February 2013
White calls the IOC "retards" for dropping wrestling.  He later apologized.
Out of all the sports the Olympics could've dropped they dropped wrestling they are retards

— Roddy White (@roddywhiteTV) February 12, 2013
July 2012
White goes on a Twitter rant criticizing Penn State and defending the honor and legacy of Joe Paterno.  This one he actually didn't apologize for.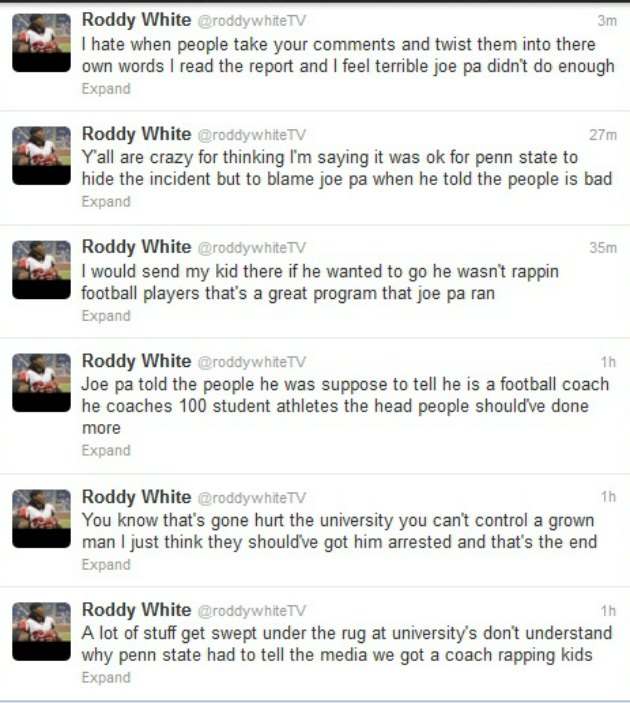 April 2012
White responds to a rather innocuous Twitter question by rhetorically answering "Would you rather be gay or straight" and sending more anti-gay tweets.  He later apologized.
December 2010
White references Hurricane Katrina in a tweet about the New Orleans Saints.  He later apologized.
Either Roddy White is going to become the first NFL player suspended for a tweet or he's going to set the world record for most Twitter-related apologies.  What will come first!