Monday night reports emerged the NHL reached a landmark deal with Rogers Sportsnet for Canadian TV rights to the league. The details are even more revolutionary – instead of the odds on favorite of splitting the rights between CBC, TSN, and Sportsnet, the NHL agreed to a 12 year $5.2 billion dollar deal solely with Rogers. The network will sublicense Hockey Night in Canada back to CBC, but in another unique step Rogers will maintain editorial control over the CBC broadcasts. It completely changes the Canadian sports media landscape and is the biggest deal in NHL history.
Earlier today, our Steve Lepore talked with NHL COO John Collins about the inner workings of the deal, how it came about, and what it means for hockey fans in Canada and the United States.
Steve Lepore: There were rumors leading up to this announcement that the league would go with three different networks from three different companies. Why did you decide to go with one company (Rogers) spreading things out over multiple networks?
John Collins: The way we went about it, particularly since the NHL is the No. 1 content in Canada, would be to try to create a bit of an auction around individual packages, like Hockey Night, possibly adding Sunday night and see how many bidders you can get going.
One of the things that's different about the Canadian distribution landscape than the U.S. is that content owners don't really necessarily have the ability to create [revenue]. Content is king, but it doesn't mean that you get paid necessarily for that content. They have pretty broad government oversight by the CRTC.
You see a lot of instances where your content owners are not able to do exclusive deals, so we wouldn't be able to do a DIRECTV or Verizon deal like the NFL. Programmers aren't able to withhold their content, you saw what you saw with the CBS/Time Warner sort of battle, which ultimately got resolved the week before the season starts.
That doesn't really happen in Canada. They really have more of a baseball-style arbitration. The programmer says "this is what I want to get paid," the distributor says "this is what I'm willing to pay you." The content stays on air and the arbitrator sort of makes a ruling. And often times that ruling goes against the programmer.
It creates an environment where, as much as we would like to use our leverage as the No. 1 content in the country, we are not able to really do it in that way. We had some conversations, obviously with Rogers, about a different model and way of looking at it. Which, if you look at Rogers, they're the No. 1 media company in the country. They are one of the biggest companies in terms of media distribution and mobility. Obviously, they make a huge, significant investment in sports.
So we went down the road of this "exclusive gatekeeper" model where they would basically license the exclusive rights to the NHL on a national basis with the ability drive and control the distribution of the product, to drive the most value and also drive and consolidate the advertiser marketplace around hockey to create the most value.
Ultimately, that was the idea. I think we were very quickly met with enthusiasm and a lot of expertise, by Keith Pelley in particular, who runs Rogers Media. Keith's a Canadian, but he has a lot of experience in the U.S. marketplace. He used to produce NFL football for Fox. He also ran the Olympic consortium in Canada for the Vancouver Games, so he was more familiar with the power of that model where somebody really owned the content on an exclusive basis and controlled distribution and controlled the advertising marketplace.
We very quickly began to explore a way that this kind of structure could create more value for the league and, ultimately, for Rogers.
One other thing that was important, from our side, was finding a way for Rogers and finding a way to keep Hockey Night in Canada, which really is a 61-year-old, iconic franchise. It's really a unifying force among Canadian. That's what you do on Saturday nights in Canada, you watch Hockey Night in Canada. We wanted to keep that in the mix.
Fortunately, Rogers was able to do a sub-licensing deal with CBC, where not only would Hockey Night in Canada be available on CBC, but the Hockey Night brand would be able to extend to a bunch of other Rogers-controlled distribution platforms on Saturday night. Saturday night is a huge night, probably our biggest night throughout the NHL. There's some great matchups in the U.S., but in Canada every Canadian team, if they're home, they want to play on Saturday night cause that's the tradition with their fans. Now, all those games for the first time will be available in Canada. It was a huge opportunity and a huge advantage to the Rogers business model.
SL: Is the Olympics in Canada a model for this? Sportsnet tweeted out a model of a master version of what this might look like on Saturday nights, it seems unprecedented.
JC: The Olympics is probably a good model in terms of the gatekeeper idea we've kicking around. I think another model that is maybe closer to home would be what we did with NBC the first year of their deal, where every playoff game was nationally available for the first time. It kind of elevated the playoffs. It certainly created a lot of enthusiasm among fans to be able to, for the first time ever, see all those games.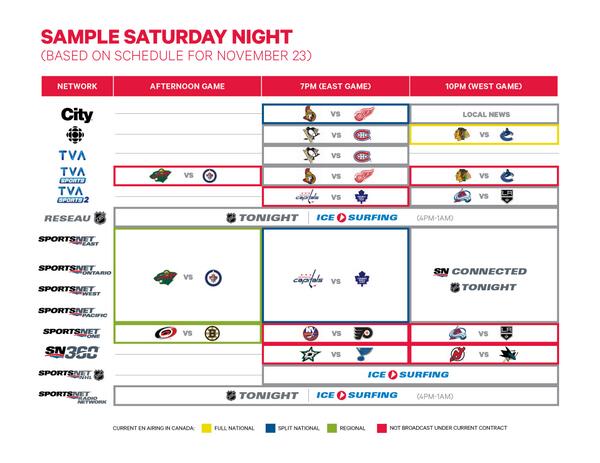 Another example was March Madness, with the sort of feeding frenzy that it creates among college hoops fans and casual fans, just because there's so many games going on and it creates such a frenzy. We're looking at a bit of a hybrid of both the Olympic model and the March Madness model on Saturday nights throughout the whole year.
SL: We're moving towards longer-term rights deals, what made a 12-year-deal most feasible from the league's standpoint?
JC: I think for us, one was definitely the value. We had strong views of what we thought the value of our content was. Again, the most important content in Canada. It's a new model, both in terms of distribution as well as ad sales. The Rogers guys were — while they were really excited and compelling for how to approach those two revenue streams — aware they needed time. They need to invest some time in changing fans' behavior, changing the distribution patterns, changing the advertising market place. It felt like 12 years was the proper comprimise between embracing technology and trying to ultimately allow the rightsholder to find a way to pay for the nearly $5 billion deal.
SL: One thing American fans have asked me about with regard to the deal is that TSN has some aspects of their product integrated into NHL Network, which obviously airs in the States. Is there any reason to believe that might affect a change on NHL Network in any way down the line?
JC: The NHL Network, particularly in the U.S., isn't really a party to this deal, the NHL Network is a huge priority for us. To the extent that we have a motivated partner in Canada who is now committed to doing a significant increase in the amount of NHL and hockey content, and that content potentially being available for distribution on the NHL Network in the U.S…. I think it will definitely improve the network.
SL: Just to clarify, CBC will retain the Stanley Cup Final and their Saturday night doubleheader for at least four years?
JC: CBC will definitely be one of the platforms, along with Sportsnet and multiple regional Sportsnets, City — which is a pretty broadly-distributed network — and Sportsnet 360, which is kind of their national network. There will be seven or eight networks involved in a Hockey Night in Canada on Saturday nights.
SL: Looking at the master list, there appears to be room for a "Red Zone-esque" channel. Have there been discussions about that?
JC: There definitely were discussions about that, their working title is "Ice Surfing," and that's certainly for fans to keep abreast of all the great plays and storylines that are happening all around the league. Whether that's a TV product or a digital product, or both, we'll figure it out with the Rogers guys in the next couple of months.
SL: Rogers holds all the editorial decisions as far as talent and direction of the broadcasts, correct? Would it be wrong to suggest that Rogers' broadcasts on CBC would be similar to what ESPN does with ABC in the U.S.?
JC: Rogers definitely controls the editorial and production content. One of things we like about the Rogers relationship is how much they talk about and respect the NHL brand and our ability to work together to kind of shine up that shield and support us.
SL: Lastly, more games for the fan, more games on a national basis, but just for hockey fans in Canada, why is this arrangement better than the previous one?
JC: Well I think you hit two of the main points, it's more national games available, more windows — with the Sunday night package and what we'll look to do there — and I think, Rogers has a technology and distribution company that is heavily vested and very interested in finding a new way to deliver the NHL game experience. I think, over the next 12 years, you'll see a lot of innovation from this partnership.