NFL announcers are like NFL officials. Fans tend to hate them all, which means the least hated ones are — by default — the most liked. In both cases, it's almost impossible to keep everyone happy. They all assume you have a bias or they feel you're adding too much or not enough to the game. Or all of the above. The point is that calling games is tougher than most of us realize. But that doesn't mean we're going to go easy as we wrap up the 2012 football season with an assessment of the top broadcast teams from each of the four major networks and a look back at the year that was in NFL broadcasting.
NBC: A- / A
Play by Play: Al Michaels, Analyst: Cris Collinsworth
Both Michaels and Collinsworth are at or near the top, but I actually give NBC the edge over the rest of the networks because of Collinsworth. Like every color guy, he takes a lot of heat on Twitter. And while he doesn't have the same sex appeal as Jon Gruden (did I really just write that?) my sense is he does more homework than any of his peers. He's quick on his feet, gets to the point and his analysis is usually spot-on, which makes up for the dryness. This example from October is NFL analysis at its best.
It's hard not to like Michaels, who takes way less public criticism than Joe Buck or Jim Nantz. I think he has a better sense of humor and has more fun than Nantz or Mike Tirico, and his sly gambling references are always welcome. He doesn't overreact, but that's something all of the top national play-by-play guys tend to do a nice job avoiding. But at the same time, what I like is that he also doesn't underreact to important moments. I find Michaels watches the game like most fans and reacts to the developments without trying to be flashy or hyperbolic. Another strength of Michaels is his ability to break things down quickly. He has a strong short-term memory and can summarize the plot in order to give context to an important moment in a very swift and clear fashion.
Lastly, Michaels possesses the voice that represents the game as we know it. He's been the voice of primetime football for two and a half decades. His voice says "this game matters." That's important.
Fox: B+ / C+
Play by Play: Joe Buck, Analyst: Troy Aikman
Buck is right there with Michaels for me, but at times he failed to properly relay the importance of some of the biggest moments he called in 2012. That's always been his biggest criticism from fans, but Buck is much improved in that category than he was a year or two ago. You can even tell he's even beginning to win fans over in the social media world who are ultra quick to criticize. I really like listening to him. I think his sense of humor is awesome (seriously) and I'd argue that he's smoother than any other play-by-play announcer in professional football (and maybe North American professional sports). He's quick and clever and he knows the games he works inside and out (better than Jim Nantz and maybe even better than Michaels). His problem is that he's less likeable than Michaels or Tirico. He doesn't seem phony, but it's that perceived lack of passion that makes it feel as though he's indifferent.
Aikman is a poor man's Collinsworth. He's not very entertaining, he's less knowledgeable and he probably only rose to that role because he's Troy Aikman. That said, he has fantastic chemistry with Buck and he isn't afraid to come down hard on his former team, the Cowboys. Considering how often this pair does Dallas games, that's important.
Ultimately, I'd prefer to see a guy like Mike Mayock with Buck. That'll likely never happen and Aikman will keep this job until he wants to leave.
NFL Network: B / A
Play by Play: Brad Nessler, Analyst: Mike Mayock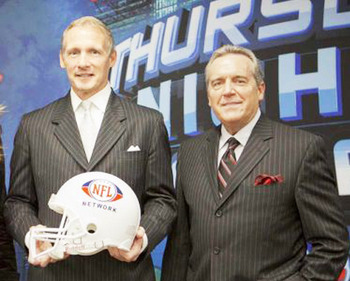 NFL Network gains extra points here because Mayock is a personal favorite. In fact, I don't think there's an 'A' team color guy in sports who takes less criticism than the extremely knowledgeable 54-year-old, whose stock has risen significantly the last few years. Because he's such a huge draft geek, he knows everyone on every roster. He can get a little technical for the average fan, but he's very good at explaining the nuances of the game. Nessler is a reliable veteran who does a nice job, but you appreciate it just a little bit more when you consider how terrible NFL Network booths with Bryant Gumbel, Matt Millen, and Joe Theismann were in the past.
ESPN: B+ / C-
Play by Play: Mike Tirico, Analyst: Jon Gruden
I still think ESPN made a terrible decision when it moved Ron Jaworski out of the booth and kept Gruden, increasing his air time. Jaworski sometimes annoyed me and he didn't always make succinct points, but he really knows his stuff and knows X's and O's like no other. Gruden knows his quarterbacks, but I don't think he studies like Jaws did. His bigger issue, of course, is that he's still afraid to criticize anybody, probably because he never knows where his next head coaching offer might come from. Collinsworth, Aikman and Phil Simms aren't as concerned about who they offend, which is important.
That said, Gruden was more tolerable this year than any of his previous seasons on Monday Night Football. He's still a caricature who relies too heavily on a handful of fallback phrases and words, but — intentionally or not — he was able to make me laugh a few times in 2012. That prevents him from getting a D grade, but to move any higher he'll have to become more critical and will have to get a better grip on the damn rulebook.
Tirico, on the other hand, is the smartest play-by-play guy in the game, period. I love that about him. He rarely makes mistakes and is on top of things from start to finish. He carries Gruden, which is no easy task. He's likeable and friendly and — despite not having legendary pipes — he definitely knows how to react in big moments. I put him right there alongside Michaels and Buck as the top play by play men in the sport.
CBS: B- / C
Play by Play: Jim Nantz, Analyst: Phil Simms
Things got worse for Simms this year. The king of unintentional color commentary comedy was his hilarious self again in 2012, as he stumbled over phrase after phrase and dispensed a steady mix of clichés, nonsensical statements and flat-out falsehoods. He states the obvious too often and just doesn't deliver the types of performances you'd expect from an "A team" analyst. I do think he has a deep knowledge of the game and I find him to be likeable, but that isn't enough to get by on. Again, I think CBS would be much better served with Dan Fouts in this role.
Nantz is Nantz. He's probably factually incorrect more often than the top play-by-play guys mentioned above and he certainly isn't as entertaining as Michaels or Tirico. I personally prefer Ian Eagle and Marv Albert. But, CBS loves him and he'll be in their top broadcast booth until the end of time.
If you're as frustrated with some of these guys as we are, don't get your hopes up regarding potential changes. Buck and Aikman have been together for 11 years now while Nantz and Simms are coming off their ninth year together. Tirico and Gruden have been teamed up for 4 years on ESPN and of course, Michaels has essentially been in the same role for 26 years. These guys are pretty much locked in until they decide to walk away (see: Pat Summerall and John Madden). For rising stars like Ian Eagle, Kevin Harlan, Mike Mayock and Brian Billick (and those who prefer them to the veterans above), that's an unfortunate reality.
Elsewhere…
-In my mind, Kenny Albert and Thom Brennaman are both solid B play-by-play guys for Fox. I went back and listened to some of their calls from this season on NFL Game Rewind and I couldn't come to a conclusion regarding who I enjoy more, but both are capable of getting the job done. The problem is that Albert is stuck with Daryl Johnston and Tony Siragusa. I don't know anybody who enjoys Siragusa's obnoxious presence as the third man on Fox's 'B' team, and Billick has already surpassed Johnston in my books. In fact, he's done so in Fox's books, too, apparently. That's probably why he and Brennaman got a divisional playoff game this week in place of Albert, Moose and Goose. Yes, Billick had a rough Sunday afternoon as has been covered, but that shouldn't taint his entire body of work over the course of the season.
-Fox made the change for the second crew working the Divisional Round playoff game and it's time for CBS to do the same. Ian Eagle and Dan Fouts have gone from that underrated announcing team everyone loves to a legitimate top flight pairing. They're certainly deserving of that #2 slot and the playoff assignment. Dierdorf and Gumbel have seemingly been around for ages, but it's time another deserving pair got that opportunity.
-CBS clearly has a deeper batch of announcers than Fox does and that was even more apparent this year than perhaps ever before. CBS has nationally recognized names like Greg Gumbel, Marv Albert, Ian Eagle, and Kevin Harlan filling out their top five teams on the play by play side. The gap in quality is also particularly glaring when it comes to analysts, though. I'll take Dan Dierdof, Dan Fouts, Solomon Wilcotts and Steve Tasker over Johnston, Billick, John Lynch and Tim Ryan any day. I'm willing to bet if you polled 100 fans, at least 90 would prefer a given CBS announcing team over their Fox counterpart.
-This season will also be remembered for Chris Berman's debut as an NFL play by play announcer. Although there was much fear and trepidation at the thought of Chris Berman calling an NFL game, his performance was uncharacteristically subdued and rather uneventful.
-The NFL pregame shows took a hit this year in ratings and are facing a problem of losing relevancy with so much information available through the internet and social media. It doesn't help the growing irrelevancy of pregame shows that the most newsworthy additions this season were comedians – Rob Riggle for Fox and Frank Caliendo for ESPN. One joke that went awry was this clumsy line by Terry Bradshaw that he later apologized for.
-CBS faced a huge amount of criticism for their handling of the Jovan Belcher murder-suicide, but seemed to quickly learn their lesson as they gave the proper coverage to Jerry Brown's tragic death a week later. These real-life stories also led to the single most talked about moment on an NFL broadcast this year – Bob Costas' halftime essay on guns.
-The best and worst moments on NFL broadcasts this season may have came from ESPN's Monday Night Football postgame show. The honest commentary from ESPN's Monday Night Football postgame after the infamous Packers/Seahawks "fail mary" game was the network at its finest. While the Packers radio call was particularly memorable, the entire ESPN postgame from Bristol to Seattle delivered a fantastic show. The result was the most watched SportsCenter ever. At the other end of the spectrum was Rick Reilly.