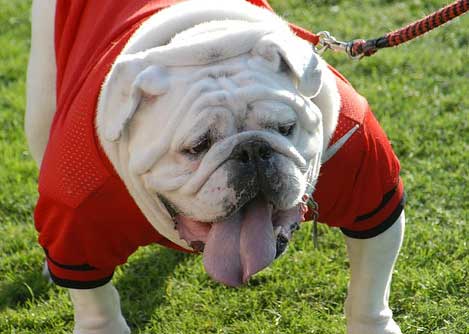 We're only one week into the 2013 college football season and we already have our first hysterical fan. Tyler from Atlanta called into a Georgia radio show after his beloved Bulldogs had just blown a game against Clemson 38-35. Obviously upset, he took the "fire everybody" approach, rather than the "it's Week 1, we have time to recover" approach.
"I love these Dawgs, man. I love 'em," Tyler said. "My daddy loved 'em; His daddy loved 'em."
"Richt is not good enough for this team, man. We gotta get rid of Richt now."
Richt is Georgia head football coach Mark Richt, for those wondering. Tyler from Atlanta wants to get rid of Richt now but has no idea who should replace him: A common dilemma in the crying fan, "fire everybody" scenario. The hosts of the radio show repeatedly ask him who should replace Richt and Tyler from Atlanta's response is:
"I DON'T KNOW WHO WE CAN REPLACE HIM WITH. OUR WHOLE SEASON'S GONE. HOW WE GON' GO FACE SOUTH CAROLINA NOW?"
Anyone who doubts the passion of a true college football fan only has to hear this once. But not all is lost, Tyler in Atlanta, the winner of the last two national titles – Alabama – hasn't been undefeated either year, and their losses came later in the season. Actually, five of the last seven national championship teams have had at least one loss. But crying after a Week 1 loss and calling for the firing of a coach who averages nine wins a season and was a dumb time management series away from a national title last year is probably the best coping mechanism.
The fact of the matter is: Tyler from Atlanta just has too much Georgia in him.