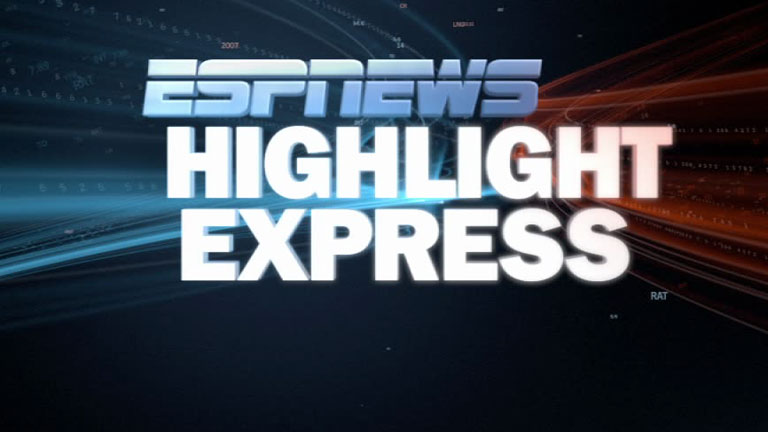 This week, ESPN did Round Two of its layoffs and veteran researcher Howie Schwab became the face of those job cuts. An estimated 400 people will lose their jobs. In addition, ESPN announced that it was suspending operation of the flailing ESPN 3D due to lack of consumer interest. And quietly, two late night programs that had filled timeslots on ESPNews and ESPNU were canceled.
ESPN confirmed to the Hartford Courant that ESPNEWS' Highlight Express and ESPNU's UNITE were canceled and yanked from the schedule on Wednesday. A network spokesman told the Courant that both shows were being axed due to low ratings and at least for Highlight Express, the numbers speak for themselves. In February, Highlight Express registered a Nielsen rating of 0.0. As for UNITE, it had been rumored to be on the chopping block in the first wave of job cuts in May and finally met its maker this week.
ESPNEWS is running repeats of SportsNation, Numbers Never Lie and Outside the Lines in the 11 p.m. – 1 a.m. ET block where HIghlight Express had been. In place of UNITE, ESPNU is airing multiple repeats of College Football Live.
And while the cuts occur, ESPN continues to spend. There's the huge new digital SportsCenter set that will be housed in a 193,000 square foot building and will be unveiled sometime in 2014. Of course, ESPN also purchased the rights to the U.S. Open Tennis tournament and is preparing to launch the SEC Network. All of those costs money. To offset rising costs, companies sometimes sacrifice parts of their workforce and that is what is happening in Bristol.
Granted, networks can't keep low-rated programming on the air as it becomes a drain on the bottom line. Hopefully the staffs of both programs can be absorbed into other departments within ESPN.
No word if either program will be replaced or if ESPN will continue to air repeats to fill the timeslots.