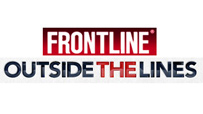 ESPN and Outside the Lines have been praised in many circles for their partnership with PBS and Frontline reporting on the NFL and concussions. Just last week the PBS/ESPN partnership produced a significant piece of journalism on concussions in the NFL, raising questions about an NFL doctor. ESPN's Mark Fainaru-Wada and Steve Fainaru have been at the front of ESPN and Outside the Lines' reporting.
Whenever ESPN has been challenged about their passion for journalism and conflicts of interest with league partners, the first thing they point to is Outside the Lines' work with Frontline on NFL concussions.
No more.
Now comes surprising news from PBS that ESPN is pulling their name off the collaborative project. Here's the entire statement from PBS.com:
"You may notice some changes to our League of Denial and Concussion Watch websites. From now on, at ESPN's request, we will no longer use their logos and collaboration credit on these sites and on our upcoming film League of Denial, which investigates the NFL's response to head injuries among football players.
We don't normally comment on investigative projects in progress, but we regret ESPN's decision to end a collaboration that has spanned the last 15 months and is based on the work of ESPN reporters Mark Fainaru-Wada and Steve Fainaru, as well as FRONTLINE's own original journalism.
Over that time, we've enjoyed a productive partnership with ESPN's investigative program, Outside the Lines, jointly publishing and co-branding several ground-breaking articles on our respective websites and on their broadcast. We've been in sync on the goals of our reporting: to present the deepest accounting so far of the league's handling of questions around the long-term impact of concussions. This editorial partnership was similar to our many other collaborations with news organizations over the years.
ESPN's decision will in no way affect the content, production or October release of FRONTLINE's League of Denial: The NFL's Concussion Crisis. The film is grounded in the Fainaru brothers' forthcoming book, also titled League of Denial, and the authors will continue to participate in the production and be featured in the documentary.
The film is still being edited and has not been seen by ESPN news executives, although we were on schedule to share it with them for their editorial input. The two-hour documentary and accompanying digital reporting will honor FRONTLINE's rigorous standards of fairness, accuracy, transparency and depth."
Here's ESPN's official statement on the matter:
"Because ESPN is neither producing nor exercising editorial control over the Frontline documentaries, there will be no co-branding involving ESPN on the documentaries or their marketing materials. The use of ESPN's marks could incorrectly imply that we have editorial control. As we have in the past, we will continue to cover the concussion story through our own reporting."
That's not the entire story, though. According to a source at ESPN, upper level management only recently became uncomfortable with the company's lack of control and final say over the finished documentary after failing to be aware of the full extent of the partnership. A partnership that had been in existence for well over a year.
This failure in communicating and understanding the agreement between ESPN and PBS at the highest levels in Bristol was apparently a key factor in ESPN pulling the plug. (If that reminds you of what happened with the Bruce Feldman debacle, you wouldn't be alone.) The source added, "it's going to leave a lot of people in the building disappointed."
AA has also been told outside pressure from the NFL to pull out of the Frontline partnership was not the deciding factor. (UPDATE: The NFL did also pressure ESPN to pull out of the documentary.)
Just last week it was revealed the NFL was not going to cooperate and now ESPN has sacrificed a partnership with PBS that has lasted more than a year for self-inflcited reasons. ESPN suddenly pulling out of important work challenging their most important league partner will raise serious questions of both ESPN and the NFL and yes, many will draw their own conclusions and make the Playmakers comparison. Whether or not ESPN does indeed go forward with their own concussion reporting will be the truest test for how apt that comparison will be.
[PBS.com]