The massive belly flop that is What Would Ryan Lochte Do is just another in a long line of failed reality shows centered around athletes. While television is saturated with a plethora of reality shows that continue to obliterate the nation's IQ level and send us spiraling down into the black hole of couponing, wife swaps, strange addictions and more, famous athletes have played their part in this unfolding Greek tragedy. From diva wide receivers to the most hated man in the NBA to an Alabama beauty queen still enjoying her 15 minutes of fame going on 1500, sports and awful reality television sure make for comfortable bedfellows.
Here's our countdown of the 10 Worst Athlete Reality Shows…
10) Bonds on Bonds (ESPN)
You could say Bonds on Bonds was well ahead of its time in 2006. You could also say the failure of Bonds on Bonds is why ESPN hasn't gone running back to the genre. Bonds was neither engaging nor likable, so a reality series starring him as the centerpiece was never going to succeed. ESPN signed up for 10 hours of Bonds on Bonds, but pulled the plug after only 5 and a half made it to air.
9) Stars in Danger (FOX) and Splash (ABC)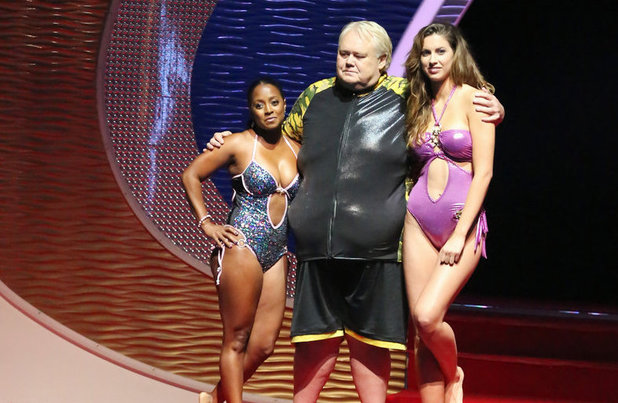 Within the span of a few months, not one but TWO celebrity diving shows launched on over-the-air network television. Apparently diving swept the country and NOBODY KNEW ABOUT IT. The ratings proved that with "Stars in Danger" doing the impossible and finishing behind NBC in their lone airing featuring Terrell Owens (much more from him later), Bethany Hamilton, J Woww and other third tier celebs. Splash hasn't fared that much better, losing nearly half of its audience since debut with athletes like Ndamukong Suh and Kareem Abdul-Jabbar. About the only thing either show has been good for is thousands of empty pageviews for sports blogs with Katherine Webb bikini pics (I think I should put that in the URL just to mess with Google).
At least the brief celebrity diving craze gave us this highlight…
8) Deion & Pilar: Prime Time Love (Oxygen)
Like a mist, Deion Sanders' reality series on Oxygen about his marriage with wife Pilar was here one second and gone the next. The series lasted just 8 episodes in 2008 and is only memorable for what happened afterward to that "Prime Time Love." Three years later, Deion filed for divorce and things have gotten much uglier since then as the sides are still battling in court. Maybe keeping score was a bad idea.
7) Keeping Up With the Kardashians (The Kris Humphries Era) (E!)
While not technically an athlete reality show, Kris Humphries and the First Family of Reality TV need to have a place on our countdown. Perhaps no Twilight Zone episode in the cross-section of sports and reality television has been more widely discussed and widely mocked than Kris Humphries and his sham of a 72 day marriage to Kim Kardashian. To put it all in perspective, the divorce proceedings between the pair lasted 536 days – 7.4 times longer than the actual marriage. While the Kardashian name is synonymous with the downward spiral of American society, Humphries did not exactly cover himself in glory either.
6) Keyshawn Johnson: Tackling Design (A&E)
Here's what the New York Times had to say about a television show whose concept seems so patently absurd I'm amazed it actually existed somewhere deep within the dark matter of reality television:
"From what we see in "Tackling Design," Mr. Johnson the designer is defined less by his taste in furnishings or his sense of space than by the overwhelming confidence and self-regard of the professional athlete. Much is made of how he and his four assistants listen carefully and try to deliver what the client wants. But when the client disagrees with Mr. Johnson's choices — when the querulous Nancy insists that she doesn't want a black floor in her bedroom — look out. The pursed lips and sarcastic remarks recall the sideline sulks after someone failed to give him the damn ball.
This, come to think of it, is a form of diva behavior, though not of the entertaining variety. Mr. Johnson was an exceptionally good football player, and he appears to be at least a competent and knowledgeable designer. (It helps if your taste runs to dark colors and big furniture; the rooms in the first two episodes both end up looking like high-end corporate housing.) But he may need to gain some humility if his design career, not to mention his reality show, is to succeed."
Incredibly, an interior decorating show starring a former NFL wide receiver only survived one season. How did ESPN let this escape their clutches? It would have been so much better with Eric Mangini instead.
5) What Would Ryan Lochte Do? (E!)
Ryan Lochte's reality show is the newest on our list, but its debut episode left such an impression that it already earned a spot on our countdown. Watching WWRLD is the equivalent of sticking a Hoover vacuum up your nose and trying to suck the brain out of your skull for 30 minutes. Lochte's terrible ratings mean the show's future is bleak, so we better enjoy his charming self-proclaimed douchebaggery while we can.
4) The T.O. Show (VH1)
In what may be the most disturbing factoid of our countdown, The T.O. Show is the longest tenured on our list at a whopping 3 seasons following the diva wide receiver. Yikes. Nevertheless, nothing is meant to last forever (thankfully) and as Owens' NFL career faded away, so did his second life as a self-obsessed reality television star. Allen Wranglers wide receiver doesn't quite have that same Hollywood sex appeal. Somewhat predictably, Owens is still crying out for attention for an NFL career that ended long ago.
3) Ochocinco: The Ultimate Catch (VH1)
One self-indulged diva wide receiver reality show deserves another! Not to be outdone by his friend, Chad Johnson-Ochocinco-Johnson staged his own VH1 reality show in 2010 that would be bigger… and much worse than any celeb dating show that came before it. Even Rock of Love. 85 prospective women were narrowed down to 1 in this travesty that flew in the face of traditional shows about made-for-TV love. Naturally, Johnson's relationship with his "#1 catch" never took off and he instead got married to another VH1 reality star – Evelyn Lozada. Their relationship ended in divorce and a domestic violence charge against Ochocinco.
2) The T. Ocho Show (Versus)
What could be more insufferable than reality shows centered around Terrell Owens and Chad Ochocinco? A show starring BOTH Owens and Ocho, of course! In one of the final nails in the coffin of Versus, someone thought it was a brilliant idea to pair the two on television, where their combined delusional diva powers was way too much for America to bear. Jackie Gleason and Art Carney they were not. Viewership for this abomination was so bad some reruns infamously drew a 0.0 rating. See, it could be worse for NBC Sports Network's ratings…
1) Pete Rose: Hits and Mrs. (TLC)
What do you get when you take a disgraced baseball player in his 70s, a Playboy model fiance half his age, and their attempts to build a real life version of Modern Family without the humor, entertainment value, or any redeeming quality whatsoever? Why you get Pete Rose: Hits and Mrs. – the king of awful athlete reality shows! The journey with Pete and Kiana Kim was so bad that TLC had to hide the final episodes of the series away on its Destination America channel back to back on a Sunday morning. Essentially, they put their own reality series to sleep. The same network that airs Honey Boo Boo, Toddlers & Tiaras, and My Crazy Obsession could not have the weight of airing a full season of Hits & Mrs. to the masses on their conscience. Think about that.
On the bright side though, Pete and Kiana also top our list of hilarious local furniture ads so at least the happy couple has that going for them…