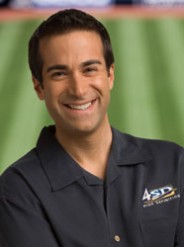 Tonight, ESPN will air 'Fernando Nation,' the latest episode of "30 for 30" which tells the story of Fernando Valenzuela, the lefty from Mexico who pitched the Dodgers to a World Series title in 1981.
In honor of the episode, I feel compelled to re-post the video of Matt Vasgersian's famous F bomb blooper on MLB Network. Rather than saying the former Cy Young pitcher's name, he slipped out a two-time Gold Glove winner's name, Fernando Vina. When Vasgersian was corrected on-air, he realized what he said and reacted pretty much how every viewer used to after hearing Vina's analysis as an ESPN talking head.  To me, the result was one of the best incidental F bombs in sports television history.
Here it is:
Enjoy the '30 for 30′ show and let us know if there are any Fernando Vina cameos.