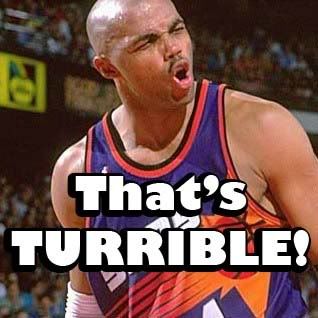 EA Sports has miraculously realized the idiocy of their plan to release newly-revamped NBA Jam, the game you are currently remembering being HELLA FUN, as a one-time download with a fresh purchase of NBA Elite '11, the "new" iteration of the basketball-simulation-schlock that's been the cause of countless controller smashings over the last decade. If you missed it, you can read all about me bashing that "strategy" last month right here.  Anyway, It seems the Elite demo was so buggy and universally crapped-upon [YouTube] that EA head Peter Moore announced that the game would be indefinitely delayed.  Since NBA Jam is basically good-to-go (it hasbeen around for 20 years), it will be released separately.
"Unfortunately, NBA Elite 11 is not yet ready and we have made a decision to delay next month's launch," Moore said, without specifying a new release date. "The decision to delay NBA ELITE was hard because the game has great promise. But ultimately we feel this is the right thing to do. We've been making steady progress on basketball for the past few years and it's going to take extra time to make the game."

NBA Jam, the arcade-style two-on-two game also due on Oct. 5, will still ship on that date for the Wii. The PS3 and Xbox 360 version was to have been included with a free download code in NBA Elite 11.Moore said that game will now be a standalone product that will arrive "in time for the holidays." He did not indicate a price point or if this will be a physical retail release or digital download.
Let me humbly point out that the important thing in all of this isn't that I said that bundling the two games together was a crappy, transparent ploy, doomed to fail because it hinges on the assumption that someone out there would willfully spend $60 on the crap that NBA Elite '11 would surely be.  And it's not that I predicted that NBA Jam would be spun off and available as an XBLA/PSN download within 3 months of launch.  No, it's not all about being right for me, folks.  Sometimes, it's about being SO RIGHT that the head of EA Sports has to publicly acknowledge the shittiness of his product, and announce that he's going with my strategy a week before the damn thing was set to launch.  MUAAHAHAHA! Dude ought to be thankful that he's got the luxury of living in the age of demos, Internet message boards, and wannabe savvy bloggers like yours truly so he can actually get all this feedback before the shit hits the console's cooling fan.  Otherwise he might have wound up forcing virtual-LeBron James to take his talents down to a landfill in New Mexico.
Just goes to show you: if you go around blowharding a couple of times a day and you cover enough topics, eventually you'll be right about something.  It's all a numbers game.
Can't wait to be the first person to fork over $10 for NBA Jam by the way. Little stocking stuffer for numero uno.  Check out the trailer below.  BOOMSHAKALAKA!
Follow Mike on Twitter @mickeyvee and read his ramblings on other topics at Wannabe Genius