First, I would like to apologize for bumping USC Song Girl AssGate from the top of the page, and thank Awful Announcing for giving me an opportunity to crack fat jokes for the next six hours. As mentioned below, I have a little site called Run Up The Score. It's mainly a college football blog, but often deviates into such topics as mentally challenged headbangers, Jenn Sterger's implants, music, and Pittsburgh sports fans that just need to put their clothes on and shut up.
It's going to be a long night, so let's just cut to the pre-game formalities.

Tonight's Allstate Sugar Bowl returns to it's proper home of the Louisiana Superdome and is essentially a home game for the Louisiana State Tigers. The location also provides a convenient post-game excuse for Notre Dame, who could set a new NCAA record for most consecutive bowl losses (9).

Just for fun, let's look back at Notre Dame's previous eight bowl losses.
Fiesta Bowl

January, 1995

Loss – Notre Dame 24, Colorado 41

Orange Bowl

January, 1996

Loss – Notre Dame 26, Florida State 31

Independence Bowl

December, 1997

Loss – Notre Dame 9, LSU 27

Gator Bowl

January, 1999

Loss – Notre Dame 28, Georgia Tech 35

Fiesta Bowl

January, 2000

Loss – Notre Dame 9, Oregon State 41

Gator Bowl

January 1, 2003


Loss – Not

re Dame 6, NC State 28

Insight Bowl

December 28, 2004

Loss – Notre Dame 21, Oregon State 38

Fiesta Bowl

January 2, 2005


Loss – Notre Dame – 20, Ohio State 34

So, Notre Dame hasn't only lost their last eight bowl games, they were beaten by at least 14 points in six of those eight losses.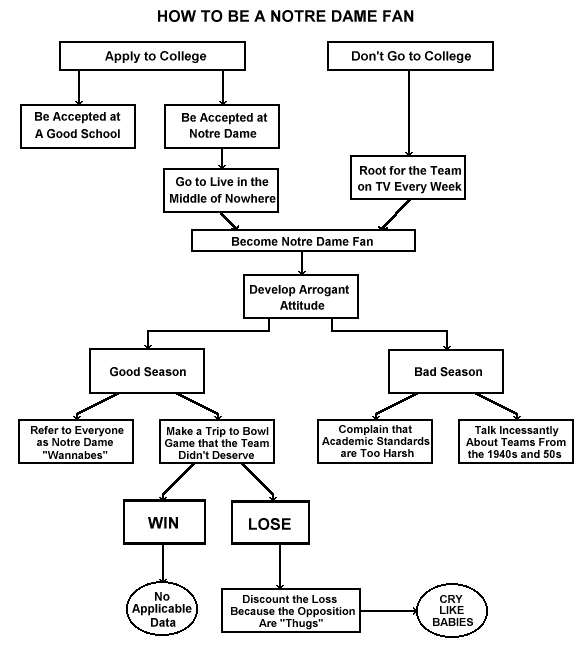 Fox is carrying the Sugar Bowl, and has assigned the team of Kenny Albert, Terry Bradshaw, Howie Long and Jeanne Zelasko to bring us the action. This could get fun. And by "fun", I mean "disasterous." ESPN Radio has the infinitely better team of Brad Nessler, Bob Griese, Paul Maguire and Erin Andrews. Erin Andrews on the radio? That's a bigger tease than the USC Song Girl actually sporting underwear.

Anyway, each school will receive between $14 million and $17 million from the Bowl Championship Series for their efforts. Naturally, LSU will be treated as the home team, which doesn't prevent Notre Dame from wearing those unlucky green jerseys since LSU usually wears white at home. The Irish have a 5-4 record all-time against LSU. The official Sugar Bowl site breathlessly notes that "Notre Dame (10-2), winners of eight of its last nine games, became BCS bowl eligible by tallying nine or more wins in their season." So did 22 other teams, but who's counting?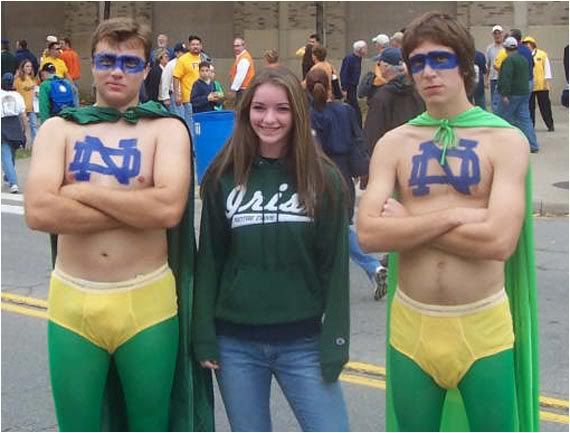 Charlie Weis realizes the importance of character men.
The general Vegas consensus is LSU (-8.5). As a gambler, I don't trust JaMarcus Russell to blow out any decent team, and the potential for Brady Quinn to put up garbage points is too great for me to resist taking Notre Dame and the points. As a college football fan and decent member of society, I hope LSU wins by 30. Also, I'll be visiting New Orleans for the first time in a few weeks and grew up as a Notre Dame-hating Penn State fan in northeastern Pennsylvania, where everybody is either a PSU or Notre Dame fan. So yeah, you could say I have a rooting interest in this one.
What To Watch For:

Can Notre Dame's offensive line protect Brady Quinn, and will LSU defensive coordinator Bo Pelini be able to generate pressure with only his front four? If Notre Dame can keep Quinn upright or force LSU to blitz linebackers and safeties, WR's Rhema McKnight and Jeff Samardzija could break loose. So could Irish TE John Carlson, who torched Penn State earlier this season.

Which JaMarcus Russell will show up? This

should

be easy pickings for Russell, who is the streakiest high-profile quarterback in college football this year. He can be unstoppable at times, but can also crap the bed with the best of 'em.

Big plays on special teams. Neither team's kicking game is particularly good, which means something freaky is bound to happen. A missed extra point or chip shot field goal, a busted punt coverage, or a blocked kick could go a long way in helping Notre Dame notch the upset.

Will LSU's fans actually make it into Superdome, or will they be carted off to the nearest emergency room?
Prediction: LSU 34, Notre Dame 30. I'm torn between wanting a close, entertaining game, or a complete blowout, which would force Marv Albert to break into "announcer time wasting mode" with Terry and Howie.
Ladies and gentlemen, start your Fatty McButterpants jokes!