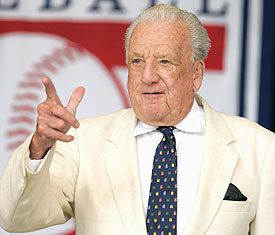 Hall of Fame slugger and well known New York Mets broadcaster Ralph Kiner died today at the age of 91 at his home in California.
Kiner played for 10 years in the Major Leagues after serving with the Navy Air Force in World War II, most famously with the Pittsburgh Pirates. He hit 369 career home runs, won the home run crown in the National League for seven consecutive years, and was elected to the Baseball Hall of Fame in 1975.
However, he is perhaps best known, at least to the last few generations of baseball fans, as a broadcaster. He, along with Bob Murphy and Lindsey Nelson, formed the Mets broadcast team on radio and television for the first 17 years of their existence. His post-game show, Kiner's Korner, was a beloved New York institution. He was known for the charming, occasional misuse of a phrase, most famously saying "It's Father's Day today at Shea, so to all you fathers out there, Happy Birthday."
He was mostly known, however, for being as knowledgeable about the game of baseball as anyone, and a terrific storyteller. Kiner still appeared for a three-inning stint (mostly for day games) in the SNY broadcast booth once or twice a month up until the end of the 2013 season, meaning he spanned over 50 years in the television booth, the one at Citi Field now bearing his name.
Kiner was never really a national voice, though he occasionally worked for The Baseball Network on regional telecasts in 1994 and 1995. He made a cameo appearance on Fox's telecast of a Dodgers-Mets game in August of 2007 to celebrate his career and memories of Shea Stadium.
Kiner is survived by five children and 12 grandchildren.