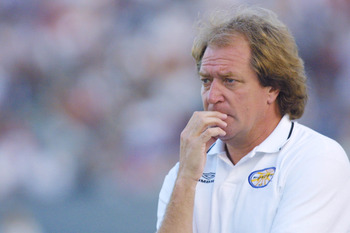 Lionel Messi added yet another brilliant goal to his loaded resume when he slipped past several Athletic Bilbao defenders this past weekend. In total, he worked his way around four defenders. He touched the ball just seven times while carving up the Bilbao defense. The end result was a predictable beautiful finish into the left side of the net.
What could possibly upstage a spectacular Messi goal? An even better goal call from beIN's Ray Hudson.
http://youtube.com/watch?v=_-j4qP9vtyE?rel=0
One of my goals when I joined the Awful Announcing crew was to further expose the sporting world to the magic that is Ray Hudson. There's a rare breed of announcers, especially color men, that add as much to the game as Hudson does. He can eloquently and creatively describe a moment filled with emotion, showing passion and desire in his voice that truly reflects the situation and chaos around him.
Here all of Hudson's skills are put on display. He screams with delight as the ball finds the net, not as a supporter of Barcelona, but as a fan of the game of soccer. He then bursts into a perfect description of Messi's goal, using analogies that most of us would never think of even if given days to prepare.
"Three players inside a telephone box and he don't care. He emasculates them, individually, collectively. He literally disperses his atoms inside of his body on one side of this defender and then collects them on the other. Magisterial, Lionel! Magnifico! Extraordinario!"
Beautiful.
This sort of call might be the highlight of an announcer's career. Rarely can someone paint such a vivid picture so effectively using such unorthodox analogies. What's crazy is that this isn't even the best call of Hudson's career. In fact, he has dozens if not not hundreds of calls that rival this one in terms of greatness. Need proof? Consider Hudson's body of work from several years ago as well as his memorable call when Real Madrid claimed the La Liga title. Honestly, it's not often you hear a brave coaching decision as one that's "braver than a bullfighter with no knickers on."
Keep at it, Ray. You're one of the greats.