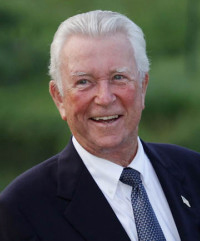 Former CBS golf analyst and 1964 US Open champion Ken Venturi passed away Friday afternoon at the age of 82. Venturi's most important victory came at Congressional, when in the '64 Open he overcame extreme heat exhaustion to claim his only major. It's one of the most famous major tournaments in the history of golf as Venturi was followed by a doctor for most of the day while he was battling for the win. Earlier this year, Venturi was elected to the World Golf Hall of Fame, although his physical condition didn't allow his attendance.
After hand injuries ended his playing career, Venturi became well known to even more golf fans in following generations as the main analyst for CBS Sports. Incredibly, Venturi spent 35 years as CBS's lead golf analyst before retiring in 2002, making him the longest running lead analyst in American sports television.
What I'll remember about Ken Venturi growing up with his golf broadcasts was his love of the game and positivity in his broadcasts. He was never the most eloquent broadcaster, but his passion for golf jumped out at viewers and pulled you into the broadcasts. Ken Venturi always brought an emotion to a game and broadcasts that are usually stoic in nature. Venturi was such a positive influence on the sport and his partnership with Pat Summerall and later Jim Nantz in the 18th tower made CBS Sports into a flagship station for the PGA Tour. No matter who was playing, Venturi would try to will the ball in the hole for them like he was still out on the golf course. Venturi's induction into the World Golf Hall of Fame in the Lifetime Achievement category pays tribute to several decades dedicated to the game as a player, broadcaster, and ambassador.
Below is Ken Venturi's Hall of Fame tribute from former broadcast partner Jim Nantz.
http://youtube.com/watch?v=yGeebSMwMTs