Even though it's apparent Ohio State and Florida State will play for the BCS National Championship if they take care of business on Saturday, the media is still trying to drum up a controversy pitting #2 Ohio State against #3 Auburn. Rational fans, pundits, and analysts can make a solid case for both teams. Unfortunately, rationality was thrown out the window a long time ago in this debate.
Perhaps the most egregious example of agenda-driven, slanted, controversy-mongering has come from individuals taking Urban Meyer quotes from 2006 completely out of context. Dan Shanoff wrote a column at USA Today about this topic and Fox Sports 1 also tweeted out this quote from Meyer in 2006 making the case for a 1-loss SEC team making the BCS title game.
There's just one problem – it's taking Meyer completely out of context.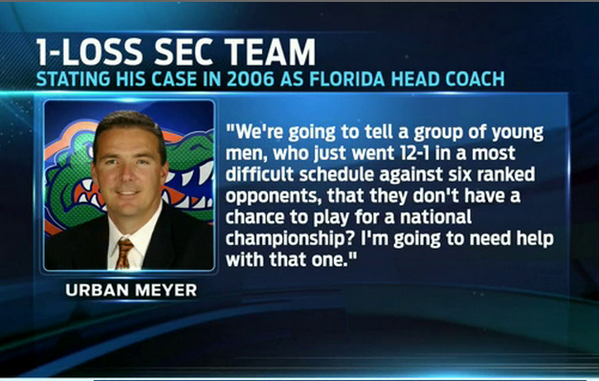 Looking at the surface, Meyer's quote seems to argue in favor of Auburn or Missouri jumping Ohio State because they would be a 1-loss SEC champion. However, in 2006, Meyer was arguing for his team to jump a 1-loss Michigan team that wasn't a conference champion (when that actually mattered in the discussion) and had just lost to the Buckeyes. Both Florida and Michigan finished the regular season 11-1.
The troubling thing is that there are scores of individuals who will slurp up this manufactured nonsense handed to them on a plate without knowing the truth of the matter.
In 2006, there was only 1 unbeaten team. In 2013 there are 2 unbeaten teams. The situations couldn't be more different. And yet, Fox has taken Meyer's quote about putting his SEC champion ahead of a fellow 1-loss team and are using it to try Auburn should leapfrog his undefeated Ohio State team. Fox is taking this quote out of context solely to generate controversy and label Meyer as a hypocritical flip flopper in the mold of John Feinstein when it's just not true. Meyer is an easy target for criticism, and some of that is deserved (see the convoluted way he left ESPN for OSU), but he's being unfairly targeted in this case.
Thankfully, many bloggers and fellow media members are seeing around the trick being pulled here, including Fox's own Clay Travis (who has been a longtime Meyer and OSU critic) and ESPN's Scott Van Pelt.
@RapSheet @richeisen @SgtFootball he was comparing to one loss Michigan then. Nobody is mentioning that. It's a significant detail

— Scott Van Pelt (@notthefakeSVP) December 5, 2013
Many individuals, especially Big Ten fans, have labeled ESPN as having SEC bias in this BCS discussion, but the folks in Bristol are too smart for a stunt like this. This is an amateurish move by Fox Sports 1 at best and just flat out disingenuous at worst, confirming once again that a BCS debate brings out the worst in sports.