A week ago, Auburn upset #1 Alabama in the Iron Bowl thanks to a the Tide attempting a 57 yard FG that fell short and was returned by Chris Davis of the Tigers. That wasn't the first field goal miss though. Alabama kickers went 0-4 on the day with Cade Foster missing 3 attempts. Additionally, Nick Saban chose to go for it on 4th and 1 deep in Auburn territory late in the 4th quarter instead of trying a field goal to go up 10 – one of many costly decisions relating to the kicking game.
During Friday night's MAC champinoship, David Pollack made a comment about Alabama needing a kicker with a strong leg. After NIU's Mathew Sims made a 51 yard FG, Pollack tweeted his analysis and was met with stern opposition from Foster himself as well as All American Classy Guy A.J. McCarron…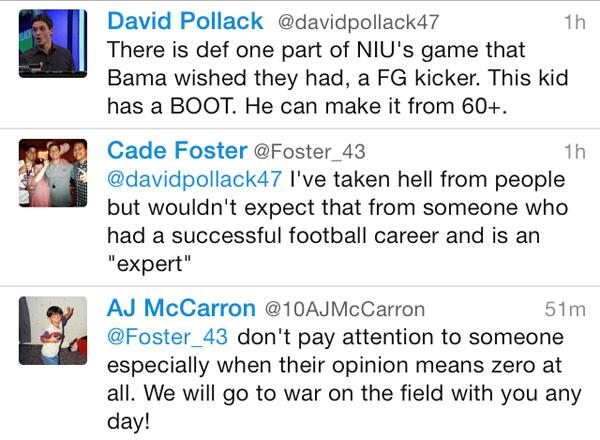 Pollack has said his fair share of dumb things this year, but this isn't one of them. It's his job to analyze. It's his job to say where some teams fall short. And besides, he was actually talking about Alabama's kicker that attempted the ill-fated 57 yarder, Adam Griffith, and not Foster.
Yes, many tweets to Foster were terrible and abhorrent. This wasn't one. If analysts can't be critical, the job might as well not even exist. If Foster and McCarron don't want television analysts discussing their play, then I'm sure Division III would be more than happy to have them.
If Foster wants to defend himself, that's within his perogative. But David Pollack has nothing to apologize for here. After all, he's right.
(Pic via Jimmy Traina)