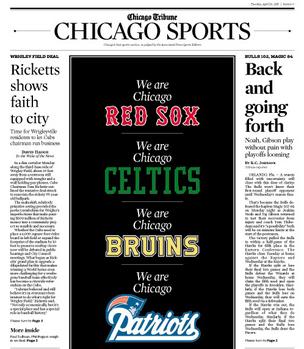 On this day after the horrific bombings at the Boston Marathon, let us give you a taste of some of the writing from the city and from elsewhere. Let's provide a sample of what has been said about Monday's tragedy.
Boston Globe columnist Kevin Cullen writes that a perfect day was ruined by a coward.
Dan Shaughnessy of the Globe says the Marathon will never be the same.
Chad Finn of the Globe says Boston may be a big city, but it has a sense of community.
At Sports on Earth, former Globe sportswriter Leigh Montville says Marathon Monday in Boston and the Commonwealth of Massachusetts has always been a special event.
WEEI's Gerry Callahan writes in the Boston Herald that the heroes of the Boston Marathon showed their real mettle.
WBZ-TV's Dan Roche says nothing will change his love for the Boston Marathon.
On the Dan Patrick Show, Boston.com producer Steve Silva, who runs the Boston Dirt Dogs site and shot the video of the first explosion on Bolyston Street, talks with Dan about what he saw.
At Grantland, Bostonian Charlie Pierce says before Monday, he used to mock the Marathon.
Colleen McCain Nelson of the Wall Street Journal had just finished the Marathon when the bombs went off.
Bruce Allen at Boston Sports Media Watch says the person or persons responible for the bombings messed with the wrong city.
At the Sherman Report, Ed Sherman finds out why the Chicago Tribune sports section chose to go with a Boston tribute on its front page.
Jason Dachman of Sports Video Group reports that the production truck that provided Universal Sports' pictures and the world feed for the Marathon is inside the crime scene that is being investigated by Federal agents and cannot be removed.
Cork Gaines of the Business Insider Sports Page has video of Yankee Stadium breaking out in the Boston Red Sox's signature 8th inning song, "Sweet Caroline" as a tribute to Boston.
Those are some of the stories you may have missed on this hectic day. I'll provide some more in another edition of the notebook later this week.